Exklusiv Interview mit Jim Baker - Exclusiv Interview with Jim Baker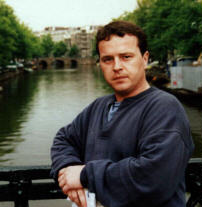 INTERVIEW 2
Deutsch

English

1.) Wie denkst und fühlst Du heute über die "Tripods" ?

1) What do you think and feeling these Days, about the Tripods?

Heutzutage fühle ich eine herzliche Zuneigung zu dem ganzen Projekt und den Leuten, denen ich während dieser Zeit begegnet bin. Die story kann auch heutigen Standars standhalten und wäre auch ein großartiger Film, falls er je gedreht wird.

My feelings these days are of warm affection for the whole project and the people I met along the way. The story still stands up well to today's standards and would make a great movie if it's ever made.

2.) Hast Du jemals "die Bücher" gelesen? Und falls "ja", mochtest Du sie?

2) Did you ever read "the books"? And if "yes", did you like them?

Mir wurde der erste Band gegeben, als ich für die Rolle vorsprach und es hat mir sehr gefallen. Als ich jedoch anfing die scripts zu lesen, begriff ich, dass es große Änderungen in der Geschichte geben würde und so habe ich Band 2 und 3 nicht gelesen, bevor die Dreharbeiten abgeschlossen waren. Ich wollte mich nicht zu sehr selbst verwirren mit der Geschichte, die wir drehten.

I was given book one when I auditioned for the role and I did like it a lot. When I started to read the scripts however, I realized there were going to be big changes to the story so I didn't read book 2 and 3 until after filming had ended. I didn't want to confuse myself over the story we were doing.

3.)Was ist mit den Grüchten über die "schwarzen Tripods"? Weißt Du etwas über sie?

3) Whats about the rumors about the "black Tripods"? Do you know anything about them?

Ich weiß nichts über die Schwarzen Tripods, von dieser Sache ist nie gesprochen worden während wir filmten. Das ist etwas, was nur hinterher aufkam.

I know nothing about Black Tripods, this story was never spoken of while we made the show it is something that has only come up afterwards.

4.) Hast Du jemals eine deutsch synchronisierte Fassung der Serie gesehen?

4) Did you ever watched the german-dubbed Version of the Show?

Ich habe mit einem Lächeln eine Episode angeschaut, es war merkwürdig mich selbst Deutsch sprechen zu sehen. Ich bin sehr froh dass es diese Fassung gibt, es beweist wie universell diese Geschichte ist.

I watched one episode with a smile, it was strange watching myself speak German, I am very glad that version exists, it proves yet again how universal this story is.

5.) Hast Du irgendwelche neuesten Berichte oder Nachrichten über John, Robin und Ceri? Und ist John wirklich der Besitzer eines Hotels in Chile und/oder arbeitet er wirklich in im Hotel-Bereich?

5) You have any updates or news about John, Robin and Ceri? And is John really a Owner of a Hotel in Chile or/and he really works in the hotel-sector?

John ist Angestellter eine großen Hotelkette und, ich glaube, er leitet die südamerikanische Abteilung, aber das mag auch falsch sein. Er ist ein glücklich verheirateter Mann mit Familie und wünscht sich, dass die Tripods ein Teil seiner Vergangenheit sind. Obwohl, er will sich in naher Zukunft mit mir, Ceri und Robin treffen, dabei werden wir versuchen ihn mehr zu involvieren. Ceri ist Lehrer an einer Schule im Londoner Süden und praktizierender Buddhist. Im Moment ist er weg in einem Rückzugsort seiner Religion. Aber er sagt, dass er gerne bei zukünftigen Veranstaltungen dabei wäre. Er weiß von unserem September-Treffen, aber hat nicht gesagt, ob er daran teilnehmen kann.

John is an employee of a large hotel group and I believe he is head of the South American section, but that may be wrong. He is a happily married man with a family and wishes Tripods to be a part of his past. Although he does want to meet up with myself, Ceri and Robin soon where we will try to make him more involved.
Ceri is a school teacher in South London and a practicing Buddhist. He is currently away on a retreat with his religion but says he would like to be involved in future events. He is aware of our September meeting, but has not said if he will be able to attend.

6.) Hast Du das Remake von "Krieg der Welten" gesehen (von 2005/mit Tom Cruise)? Was hälst Du von dem dortigen Design der Tripods?

6) Do you watched the remake of "War of the World" (from 2005 w/Tom Cruise)? What do you think about the Design of the Tripods there?

Mir hat der Film gefallen und ich wünsche mir, dass "The Tripods" eine ähnliche Behandlung widerfährt. Das Design ist gut, aber es hält sich sehr an die Ideen im Buch. Ich denke, John Christophers Tripods müssen einen eigenen Look erhalten.

I enjoyed the film and wish that The Tripods could be given a similar treatment, the design is good but its very much like the ideas in the book, John Christopher's need to have a unique look I think.

7.) Warum ist es so schwer für die Fans mit John, Robin und Ceri in Kontakt zu kommen?

7) Why is it so hard for the Fans, to get in touch with John, Robin and Ceri?

John wünscht von den momentanen Aktivitäten unbehelligt zu bleiben, das ist seine Entscheidung und wir sollten das respektieren. Aber ich nötige ihn immer, sich doch mehr zu beteiligen, vielleicht wird er das in Zukunft auch tun. Ceri ist weg, wie ich bereits gesagt habe; kein Zweifel er wird im Laufe der Zeit mehr mitmachen. Robin kann über die "league of freemen"-group bei Yahoo kontaktiert werden und ist der Gruppe sehr verpflichtet und beabsichtigt beim September-Treffen dabei zu sein.

John wishes to remain uninvolved in the current activities, this is his choice and we should respect it, but I always push for him to be more involved so perhaps he will in the future.
Ceri is away as I have said; he will no doubt become more involved as time goes on. Robin can be contacted at the league of freemen group at Yahoo, and is fully committed to the group and intends to be at the Sept meet.

8.) Wie geht es Dir mit den Fans heutzutage? Gefällt Dir, was Du siehst?

8) How do you feel about the Fans today? Do you like, what you see?

Ich bin sehr beeindruckt von der Art und Weise wie populär die Geschichte und die Serie nach dieser ganzen Zeit immer noch sind. Als ich vor Jahren das erste Mal im Internet nach den Tripods suchte, erwartete ich nur sehr wenig zu finden, aber ich war hoch erfreut eine starke Fan-Gemeinde vorzufinden, die sogar bis heute weiterwächst. Ich bin Euch allen sehr dankbar für all die Unterstützung, die Ihr gezeigt habt und Eure Anstrengungen diese Geschichte weiterzubringen und es ist fantastisch wie Ihr neue Ideen entwickelt, das ist wirklich wundervoll. Das wird alles von dem Produzenten (Richard Bates) und Sam Youd gesehen, die Stellung genommen habe dazu, was für eine loyale und verantwortungsbewußte Gruppe Ihr seid, und dem stimme auch ich zu!

I am very impressed by the way the story and the program are still popular after all this time. When I first started to search for Tripods on the internet years ago, I was expecting to find very little, but I was so pleased to find a strong fan base and one that still grows today. I am very grateful to you all for the support you have shown and your efforts in moving this story on and developing new ideas within it are fantastic, it is truly wonderful. It is all recognized by the producer (Richard bates) and Sam Youd who have commented on what a loyal and caring group you are, and I agree!

9.) Einige Fans arbeiten an einem Adventure-Game. Gefällt Dir diese Idee, und falls "ja" wirst Du es spielen, wenn es rauskommt?

9) Some Fans are working on a Adventure-Game. Do you like this? Idea, and if "yes", you gonna Play it, when its Released?

Ja, natürlich werde ich das! Versuch mal mich zu stoppen! Dies ist wieder ein Zeugnis der Fangemeinde, eine solche Kreativität und starke Leistung ist bei anderen Fan-Clubs der anderen Serien nicht bekannt. Mir gefiel besonders die Artworks, die du mir geschickt hast und ich denke es wird wirklich gut aussehen, aber weil Sam Youd seit kurzem krank ist, habe ich es ihm nicht gezeigt. Es wird jedoch keine Probleme verursachen, denn es ist nicht wie die Sachen von BBC und das Spiel ist eine Idee, die auf dem Buch basiert, deshalb sollte es keine Bedenken wegen des Copyrights geben. (Aber ich bin kein Rechtsanwalt!!)

Well, of course I will, try stopping me! This again is a testament to the fan base, such creativity and strong input is not known in other fan clubs of other shows. I did like the artwork I was sent and think it will look really good, but because Sam Youd has been ill recently I have not shown him. It will not cause a problem though, because the artwork is not like the BBC stuff and the game is an idea based on the story, so there should be no worries about copyright. (But I am no lawyer!!)

10.) Berühmte letzte Worte? Irgendwelche persönlichen Kommentare?

10) Famous last Words? Any personal comments? ;-)

"The Tripods" ist ein sehr wichtiger Teil meines Lebens gewesen, es war selten aus meinem Kopf in den letzten 22 Jahren und ich habe so viele tolle Erinnerungen an die Dreharbeiten. Die Tatsache, dass die Story und die Serie immernoch weltweit von den Fans am Leben erhalten wird, erschüttert mich völlig und gibt mir ein das schöne Gefühl, dass ich ein Teil einer wirklich einzigartigen Gruppe bin. Diese Gruppe setzt sich aus uns allen zusammen und sie ist nur so gut, aufgrund dessen, was wir alle hineinstecken. Ich fühle mich geehrt ein Teil davon zu sein und bin mir sicher sie bleibt stark. Vielen Dank an Euch alle, dass Ihr ihr diese Stärke gebt und für Eure Unterstützung und Eure fortdauernden freundlichen Worte und Gesten.

The Tripods has been a very important part of my life, it has rarely been out of my mind for the last 22 years and I have so many great memories of making it. The fact that the story and the show is still being kept alive by its fans worldwide is a complete shock to me and gives a real warm feeling and makes me feel like I am a part of a really unique group. That group is made up by us all, and it is only this good because of what we all put into it, I am honored to be a part of it and feel sure it will go from strength to strength. Thanks to you all for giving it that strength and for your support and continuing kind words and gestures.
INTERVIEW 1
Hallo liebe Tripods Freunde. Hier nun darf ich euch den 'ersten' Teil unseres eMail-Interview mit Jim Baker presentieren. Die Fragen wurden von den FanClub Mitglieder gestellt. Jim stand uns Rede und Antwort, auf all unsere Fragen. Hier möchte ich nochmal Jim für seine Zeit und Arbeit bedanken, die er in sein "Bring back the Tripods" investiert. THANKS ALOT JIM!
Hier nun das komplette Interview. in DEUTSCH -UND- ENGLISH.
Deutsch

English

Was hat dich genau dazu bewegt, wieder in die Öffentlichkeit zu tretten und das Projekt "Bring back the Tripods" zu starten ?

What made you come forward and launch the project "Bring back the Tripods"?

Ich versuchte im Internet Kontakt zu den Mitarbeitern und Darstellern der Serie zu bekommen, als ich überrascht die Tot von Ceri Seel feststellen musste. Wir wurden während der Dreharbeiten sehr gute Freunde. Ich werde ihn sehr Vermissen. Ich sah, das noch viele sich mit diesem Thema beschäftigten und entschied, das die Serie wieder zurück zu bringen, mit Erfolg gekröhnt werden könnte. Ich wurde auch von Stuart Wyss ermutigt, der eine Tripods Seite in den USA betreibt. Seine Seite unter: www.users.voicenet.com/~swyss/tripods.html . Ich hoffe, das diese Kampanie die anderen Mitarbeiter und Darsteller ermutigt, sich mit mir in Verbindung zu setzten.

I came to the Internet to try and search for and contact any cast or crew, imagine my surprise when I discovered the death of Ceri Seel. We were very good friends during the filming. I will miss him. I realised quickly that there was a large following and decided that acampaign to bring back the show may work, I was also encouraged by Stuart Wyss who runs a website about the Tripod from America, His website is www.users.voicenet.com/~swyss/tripods.html I hope that the campaign will encourage cast members or crew to come forward and contact me.

An was arbeitest du im Moment ? Gibt es eine neue Serie mit dir oder arbeitest du nicht mehr aktiv in der Filmbranche ?

What are you working on at the moment? Is there a new show or are you working on any movies?

Ich arbeite nicht länger beim Fernsehn oder in der Film Industrie. Ich habe nun einen regulären Job in London. Ich bin Busfahrlehrer.

I no longer work within the TV or film industry. I have a regular job in London teaching people how to drive London Buses.

Was war nach deinem Wissen der Grund, das die Serie nach der zweiten Staffel beendet wurde ?

Why do you think the show was cancelled after the second season?

Die Serie wurde von einem Mann mit dem Namen Michael Grade gestrichen. Er war zu dieser Zeit der 'Chief' von BBC und entschied, das Sci-Fi nicht erwünscht sei (wenigen Zuschauerzahlen sowie die hohen Kosten) und setzte somit die Serie ab. Er war auch dafür verantwortlich, das Dr. Who abgesetzt worden ist (und er ist ziemlich Stolz darauf). Aber nun wird Dr. Who neu aufgesetzt. Ich hoffe, wir können dadurch auch ein wenig Aufmerksamkeit auf die Tripods dadurch lenken. Ceri Seel wäre ein perfekter Dr. Who gewesen. Sehr interesannt ist auch, das Serien wie Blakes 8 und Red Dwarf nach dem gleichen Prinzip ablaufen und immer noch laufen. Tripods war leider ein Opfer von Michael Grades persönlichem Geschmack.

The show was cancelled due to a man called Michael Grade. He was the chief of the BBC at the time and has admitted to not liking any kind of sci-fi So when he saw the low viewing figures and the high budget cost's he axed the show. He also axed Doctor Who and is quite proud of the fact. But now Doctor who is set to make a return in a newly made series. I hope we can get some recognition for the Tripods too. Ceri Seel would have made a superb Doctor Who. It's interesting to note that shows like Blakes 7 and Red Dwarf had the same viewing figures for their first series but survived. Tripods was a victim of Michael grades personal likes and dislikes.

Gibt es noch oder wieder Kontakt zu Darstellern oder Mitarbeitern der Serie ?

Are you still in touch with the cast and crew of the show?

Ich hab nach den Dreharbeiten mit keinem der Mitarbeiter oder Darsteller gesprochen.

I have not spoken to any cast or crew since the filming ended.

Hat die Geschichte der Serie, bzw. des Buches, einen tieferen Sinn ? Oder siehst du dies nur als eine "Sci-Fi Serie" an, wie jede andere ?

What do you think is the deeper meaning of the book/series? Or is it just a Sc-Fi show like any other?

Meiner Meinung nach wollte der Autor nur eine scifi story mit menschlichen Geschichten. Falls es schlechtes gab, dann nur daß nicht gezeigt wurde, welchen Einfluß eine Invasion der Menschen auf ihren Freiheitsdrang hat.
Das Verlangen, zu den Bergen zu gelangen und mit den freemen gegen die Tripods zu kämpfen ist ähnlich zu Frodos Reise in LOTR. Der Kampf gut-böse ist eine der ältesten und besten Stories.

The deeper meaning of the story as the author intended in my opinion is nothing more than a sci-fi story that has a real human quality to it. If there were any floors in the television show it was that it didn't show the impact of an invasion and the conquering of the human race and therefore the desire to remain uncapped and fight for freedom. The desire to get to the mountains and join the freemen and fight the Tripods is not too dissimilar to Frodo's journey in the Lord of the rings. The struggle of good over evil is one of the oldest and best stories ever told.
Thank you Jim, for this nice Interview. I hope, we can bring back The Tripods and the second Session on DVD :-).

HAIL TO THE TRIPODS ! AVOID THE CAP !
---
Hallo liebe Tripods Freunde. Hier darf ich euch nun den zweiten und letzten Teil des Jim Baker Interviews presentieren (Teil 1 HIER). Ich möchte mich hier nochmals bei Jim herzlichst bedanken, das er sich die Zeit genommen hat, die Fragen so genau und ausführlich zu beantworten.
Was ist dir am stärksten in Erinnerung geblieben, von den Dreharbeiten ?

What do you remember mostly about shooting the series?

Der komplette Dreh der Serie war das reinste Vergnüngen. Ich warsozusagen in einer Welt, wo alle um mich das gleiche Ziel verfolgten. Jeder der Mitwirkenden brachte seine besten Fähigkeiten ein, bemühten sich mit allen Kräften, das beste an's Tageslicht zu bringen und die Atmosphäre beim Dreh zu verbessern. Ich hatte nie mehr so tolle Zeiten wie damals. Ich würde echt alles geben, um diese Zeiten wieder aufleben zu lassen.

The process of filming The Tripods was a complete joy to be involved in. I was in a world where all around me had one common goal. Every effort made by every member of the crew and cast was to the best of their abilities and we worked in an atmosphere that. I have never experienced again since. I would give everything up to re-live those moments again.

Gibt es eine Lieblingsfolge aus den zwei gedrehten Staffeln ?

What is yor favourite episode?

Jede Episode ist aus verschiedenartigen Gründen die beste. Aber speziell die Szene, aber die Episoden nach Chateau und am Vichot Weinberg sind besonders denkwürdig. Selbstverständlich war die Episode, in der ich den Tripod vernichtet habe, einer meiner Lieblingsfolgen.

Each episode is special for various reasons, but the scenes after the chateau and in the Vichot vineyard were particularly memorable. Of course blowing up the Tripod was an episode that stands out for me.

Hast du ein Buch, das nach deiner Meinung dich stark beeinflusst hat ? Bzw. einen Schriftsteller, den du gerne liest ?

Is there a book or an author that had great influence on you?

Das meiste das ich in diesem Alter gelesen habe, war über Schauspielerrei und die Prüfungen zu diesem Thema. I war auf der L.A.M.D.A (London Academy of Music and Drama) also laß ich Shakespeare, Dickens, Harold Pinter, Brecht, nur um ein paar zu nennen.

Most of my reading at that age was based around acting and the exams. I was taking that were set by L.A.M.D.A (London Academy of Music and Drama) so I was reading Shakespeare, Dickens, Harold Pinter, Brecht. To name just a few.

Musik ? Hast du eine bevorzugen Musikstyle ? Oder eine Lieblingsband ?

What music do you prefer? What's your favourite band?

Während der Dreharbeiten zu der Serie hörte ich hauptsächlich Reggae Dub Musik, deren Musiker damals in Britanien allgemein nicht bekannt waren. Darunter waren Musiker wie Jah Shaka, Johnny Clarke, Vivian Jackson, Lee Perry, Glen Brown. Ich würde mich wundern, wenn einer diese Namen kennt ? Heutzutage höre ich praktisch alles. Ich bin sehr angetan von Mozart Opern und sogar Led Zeppelin und auch so Musikrichtungen wie Soul, Jazz und den Blues. Moderne Musik, die in den "Charts" gastieren waren noch nie wirklich mein Fall.

At the time of filming the Tripods I listened mainly to reggae dub music the performers were generally unknown in Britain at the time. They include Jah Shaka, Johnny Clarke, Vivian Jackson, Lee Perry, Glen Brown. I wonder if anyone reading this recognises those names? Today my musical tastes have expanded to include most styles. I have become very fond of Mozart operas and even Led Zeppelin and I also listen to soul, jazz and the blues. Modern styles of "chart" music have never really appealed to me.

Hast du Kontakt zu FanClubs ? Oder besteht evtl. der Plan, einen Offiziellen FanClub zu gründen ?

Are you in touch with fan clubs? Are there plans for an official fan club?

Es gab einmal einen Offiziellen FanClub, der während der Dreharbeiten gegründet worden ist und kurz nach der Ausstrahlung der Serie ein Treffen auf Saltwood castle (Chateau Ricordeu) abhielt. Seit diesem Tage hab ich leider nichts mehr von diesem FanClub gehört, oder das es einen anderen gibt.
(Anmerkung des WebMasters: WIR haben jetzt wieder einen FanClub! Meldet euch an, Freunde. Bald auch auf Englisch !)

There was an official fan club started during the filming of the first series and there was a convention shortly after the show broadcast held at Saltwood castle. (Chateau Ricordeu) Unfortunately that was the last I heard of the fan club and to this day I have not heard of it or any other starting.
(Note of webmaster: NOW WE have a fanclub again! Announces you, friends. Soon also in English!)

Was denkst du von den Gerüchten, das die Serie verfilmt werden soll ? Denkst du eine Neuverfilmung wäre Sinnvoll/Notwendig ?

What do you think about the rumours to remake the show as a movie? Do you think it would be a good idea?

Mich würde es sehr freuen, die Tripods auf der Leinwand zu sehen. Es würde wirklich gut auf die große Leinwand passen. Und ich hoffe die Original Geschichte wird komplett mit allen Karakteren umgesetzt. Leider setzten so viele Filme auf ihre Spezial-Effekte und massive Action-Szenen, die aber wie ich meine, nicht wirklich vorkommen in der Serie. Es ist mehr die Geschichte die gut erzählt werden kann. Insbesondere fehlt oft der menschliche Aspekt in den modernen Verfilmungen.

I would love to see the Tripods as a movie. It would really work well on the bigger screen, I only hope that any such movie respects the original story and that the characters and setting remain English. But so many films rely on special effects and big action sequences which I feel Tripods doesn't really have that much of, its more of a story which relies on good cinematography and a story that has a human quality so often missed in modern film making.

Wie hast du die Zeit damals erlebt ? Gab es Fanbriefe ? Standen die Mädels schlange vor deiner Haustüre ? ;)

How did you experience that time? Fan letters, girls waiting at your doorstep, that sort of thing? ;)

Ich erinnere mich nur an ein paar Fans, die uns aufgesucht haben. Und ich glaube ehr, sie waren mehr an John Shackley interessiert, da er wohl das bessere Aussehen hatte. I habe viele Briefe bekommen, die ich versucht habe, alle zu beantworten. Aber BBC beantwortete die meinsten mit Standartschreiben und Fotos. Ich erinnere mich noch, wie ein junges Mädchen mich im Londoner Untergrund nach einem Autogramm fragte. Es war eigentlich sehr peinlich, da alle anderen um uns herum anfingen, mich anzu starren.

I can only remember a limited amount of fans actually seeking us out, and I think that it is true that they were more interested in John Shackley as he had the good looks. I had very many letters that I tried to answer, but the BBC tends to answer a majority of them with stock letters and photos. My one memory of this is on the London Tube when a young girl asked me for my autograph, it was very embarrassing actually as the rest of the journey was spent with people staring at me.

Welche Erinnerungen hast du von John Shackley und Ceri Seel ?

What recollections do you have of John Shackley and Ceri Seel?

Ceri Seel und John Shackley waren wirklich großartige Typen. Erstmal muss ich sagen, das ich sehr geschockt war, als ich den Tot von Ceri mitbekommen habe. Ich sah die Nachricht auf diversen Internetseiten und keiner wusste genau unter welchen Umständen er starb. Ich wünschte, ich hätte damals den Leuten zur Seite stehen können und meinen Respekt zollen können. Ich werde ihn immer in guter Erinnerung behalten. In seiner postiven, freundlichen und rücksichtsvollen Natur, die er hatte. Ich werde ihn vermissen. Ceri, John und ich haben eine gute Leistung. Ich hoffe, die anderen sehen das genauso.

Ceri Seel and John Shackley were really great guys. Let me start by saying how upset I was on hearing of Ceri's death. I just saw it on a webpage as many others did and don't know any of the circumstances. I wish I could have joined people in paying my respects at the time but I will promise to remember him for his good nature and the kind, considerate friend that he was. We got on really well during filming and I will miss him. Ceri, John and I really bonded well, which I can see in our performances, I hope that comes across to others as well.

Irgendwelche persönlichen Kommentare ?

Any comments you might like to add?

Ich möchte besonderst auf Dave Edwards hinweisen, der die Position des Production Assistent inne hatte. Unser "Minder" Dave war eine einzigartige Karaktere und ohne ihn an unserer Seite, denke ich, wäre das alles anderst gelaufen. Wir waren Jung, abenteuerliche Jugendliche und wir stecken mehr als einmal in der Klemme. Er war ein "dufter Kerl". Dave, falls du dies hier jemals liest, Danke Alter.

I would like to make a special note about a guy called Dave Edwards, he was a production assistant on the show and our "minder" Dave was a unique character and without him at our side I think things would have been so different. We were young and adventurous teenagers and this could have got us into trouble on more than one occasion. He was one "top bloke." Dave if you ever get to read this, thanks mate.